The MBA@UCDavis Student Experience
The UC Davis Graduate School of Management is educating the next generation of inspired, results-driven business leaders through an innovative online student experience.
Our online MBA program, MBA@UCDavis, offers collaborative online tools, real-world experiences and personalized support. Online students have access to the same resources and depth of connection to our community as the on-campus programs.
Jump to:
Residential Experience
Student Support
Career Planning
Meet Atrio: An Innovative Digital Campus
The MBA@UCDavis curriculum is delivered on Atrio—a first-of-its-kind digital campus providing an seamless, intuitive learning environment. The online platform combines technology, data and a sophisticated user experience to provide an open, communicative relationship between faculty and students.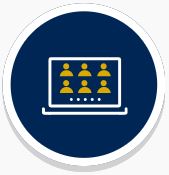 Immersive Learning Experience
Weekly, face-to-face online classes in small groups of peers and professors facilitate community and open discussion. Atrio's dashboard offers an organized view of the entire program providing easy access to coursework, new content and the online classroom. Stream materials directly to your TV for a more personalized learning experience.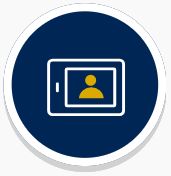 Collaborative Digital Environment
Atrio's feedback tool, CritiqueIt, allows for instant on-screen annotations and video commentary so students can give and receive feedback in real time. Instant collaboration on team-based projects deepens the value of the curriculum and enhances relationships with peers and professors that extends long after graduation.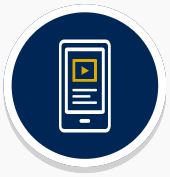 Interactive Learning On the Go
Atrio is designed to accommodate each student's personal learning style and pace. The full-service mobile app allows maximum flexibility with access to classes and assignments just one click away. For added convenience, course content is searchable, includes full transcripts and can be watched at a range of speeds.
Jump to:
Residential Experience
Student Support
Career Planning

In-Person Residential Experience
Students attend two in-person residentials while enrolled in the program. Online MBA@UCDavis multi-day residentials provide students the opportunity to connect with fellow classmates and faculty outside of the online virtual campus.
These in-person experiences provide a setting for students to develop invaluable personal and professional connections. Residentials take place both on the UC Davis campus and in industry-centric locations like Napa Valley in Northern California.
The academic content of each residential features:
Guest speakers and presentations
Collaborative, team-based assignments
Curated reading materials and video recordings
Simulated case studies and leadership scenarios
"I'm glad that UC Davis is the first school in the University of California system to come out with an online MBA program. This is an amazing opportunity because we are all professionals. I get to have it all. I get to have my job, be a mom, and further my education. We're not just learning abstract material. We're learning skills that we can apply to our job right away; the next day. It's been a great experience so far."
– Bee Yang, MBA@UCDavis Student
Develop Your Professional Network
Form connections with peers and professionals through a flexible online experience.
Jump to:
Residential Experience
Student Support
Career Planning
Student Support
Support begins the moment prospective students request information about MBA@UCDavis and continues far beyond graduation. From our top-ranked faculty to our alumni and dedicated support staff, UC Davis is focused on the success and support of our students and graduates.

Admissions Counselor
As soon as a prospective student requests information to learn about MBA@UCDavis, they have access to a dedicated Admissions Counselor who is ready to provide personalized, individual support. Admissions Counselors are a valuable resource for questions about the program, admissions requirements and application tips.
Student Success Advisor
Upon enrollment, students are paired with a personal Student Success Advisor who provides ongoing support throughout the program. Student Success Advisors offer academic guidance, technical support and makes sure students have everything they need throughout the program. Enrolled MBA@UCDavis students gain access to both on-campus and online support resources.
Alumni Network
MBA@UCDavis graduates become a part of the Graduate School of Management's network of more than 4,800 alumni and UC Davis' global network of more than 260,000 alumni. Career building resources and mentoring are available to all graduates for life.
Jump to:
Residential Experience
Student Support
Career Planning

Personalized Career Planning
The Graduate School of Management prioritizes the success of its graduates though our career services team. Our team identifies specific companies for graduates, provides online resources, and offers career coaching to all students and alumni.
Through one-on-one coaching, the UC Davis career services team helps students and alumni:
Form career plans that define goals and create paths to success
Research specific organizations of personal interest
Develop plans to advance in current roles
Bolster networking and connections in a chosen field
Prepare for interviews and organize resume
Conduct post-interview assessments
Navigate the offer stage and negotiation process
Our Corporate Network and Proven Track Record
MBA@UCDavis students have the opportunity to take advantage of our strong local connections to corporations in Sacramento, the San Francisco Bay Area and Silicon Valley. Our reputation as a leader in business education can position students to succeed in the world's hub of innovation.
Jump to:
Residential Experience
Student Support
Career Planning
"I realized that the way I learned best was from the comfort of my own space. What makes the online program great is that every single student comes from a diverse background. They're already leaders in their industry, and this MBA program is definitely going to help them succeed even more within their company to really push them to that next level."
– Angel Melchor, MBA@UCDavis Student
Choose an Online MBA That Puts You First
Connect with an online MBA@UCDavis Admissions Counselor and find out how our online MBA can prepare you to become a collaborative, driven leader in your field.
GMAT waivers are available to qualified applicants.