The MBA@UCDavis Student Experience
The UC Davis Graduate School of Management is educating the next generation of inspired, results-driven business leaders through an innovative online student experience.
Our online MBA program, MBA@UCDavis, offers collaborative online tools, real-world experiences and personalized support. Online students have access to the same resources and depth of connection to our community as the on-campus programs.
Meet The Digital Campus
The MBA@UCDavis curriculum is delivered on The Digital Campus—a learning management system that provides a seamless, intuitive learning environment. The online platform combines technology, data and a sophisticated user experience to provide an open, communicative relationship between faculty and students.

Immersive Learning Experience
Weekly, face-to-face online classes in small groups of peers and professors facilitate community and open discussion. The Digital Campus' dashboard offers an organized view of the entire program providing easy access to coursework, new content and the online classroom. Stream materials directly to your TV for a more personalized learning experience.

Interactive Learning On the Go
The Digital Campus is designed to accommodate each student's personal learning style and pace. The full-service mobile app allows maximum flexibility with access to classes and assignments just one click away. For added convenience, course content is searchable, includes full transcripts and can be watched at a range of speeds.
"I'm glad that UC Davis is the first school in the University of California system to come out with an online MBA program. This is an amazing opportunity because we are all professionals. I get to have it all. I get to have my job, be a mom and further my education. We're not just learning abstract material. We're learning skills that we can apply to our job right away; the next day. It's been a great experience so far."
Choose an Online MBA That Puts You First
Connect with an online MBA@UCDavis Admissions Counselor and find out how our online MBA can prepare you to become a collaborative, driven leader in your field.
GMAT waivers are available to qualified applicants.

In-Person Residential Experience
Students attend two in-person residentials while enrolled in the program. Online MBA@UCDavis multi-day residentials provide students the opportunity to connect with fellow classmates and faculty outside of the online virtual campus.
These in-person experiences provide a setting for students to develop invaluable personal and professional connections. Residentials are planned in Davis, the San Francisco Bay Area and Los Angeles, including engaging learning and team building experiences in nearby venues such as Napa Valley.
The academic content of each residential features:
Guest speakers and presentations
Collaborative, team-based assignments
Curated reading materials and video recordings
Simulated case studies and leadership scenarios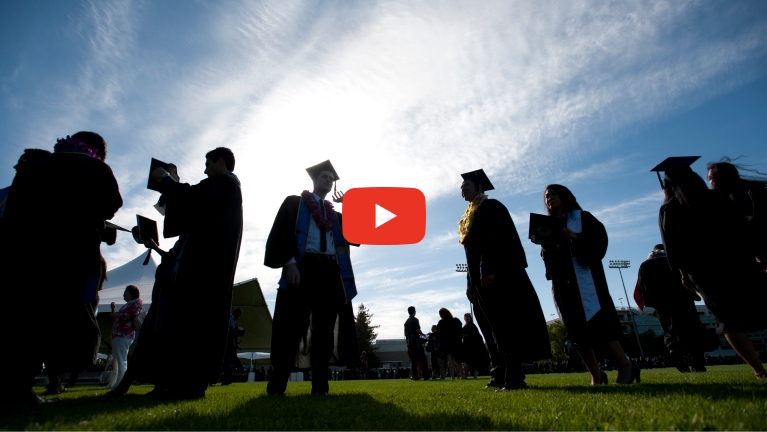 After Graduation: What's Next?
Our alumni will tell you: Graduation is just the beginning of your journey as an Aggie. Our graduates launch start-ups, get promoted to C-suite positions, and lead initiatives that advance their personal and professional passions. Don't take it from us, though. Find out where our latest class is headed—and why they're looking forward to the future.